BitPlay Club Coupons
BitPlay came into being after several game developers teamed up with blockchain gaming champions to create different gambling games. These games are offered to the broader public and have been assumed to be 100% provably fair. You will not often find any BitPlay Club free bonus or promo codes during December 2022 as the incentives are in the odds on display along with the provably fair tech backing up the results.
BitPlay Club Casino prides itself on promoting the blockchain concept. The mission statement decrees that the firm is bringing blockchain knowledge and benefits to the masses. The casino platform is working hard by creating new game designs that will introduce more exciting games in the future.
BitPlay Club Explained
BitPlay Club is a crypto betting site with a difference. Instead of focusing on casino games or sports betting, this platform is predominantly an online lottery.
When it comes to online lotteries, there are a lot of things to think about, with fairness being one of the main issues. To truly succeed in this category, lottery sites need to be provably fair. Otherwise, the house could simply select winning numbers that don't match anyone's numbers.
BitPlay Club proudly boasts on its homepage that the site is the fairest around, and provably so. But, how do they prove this? And is this true, or simply another big shout?
In our review, we pick apart all the aspects of BitPlay Club to find out how reliable the platform is. If you're interested in becoming a part of one of the more ambitious crypto betting sites on the web, then read on for everything you need to know.
Who is BitPlay Club?
BitPlay Club is a crypto lottery site that has been active since 2017. For most of the site's lifespan, it operated without an official license. However, this has recently changed and the site now holds a license in Curacao.
A Curacao gaming license is generally seen as rather badly enforced and not quite as serious as in other countries, which is a big reason many online betting sites flock to this license. However, despite this, it does at least mean users have a level of legal protection and the site can be held accountable for any unfair play.
According to our research, BitPlay Club has a much smaller revenue than most other online lottos. This can become a problem if you win a big jackpot, as the site may not have the money to pay out right away, and you may have to wait around for a while to receive your winnings in hard cash.
Is BitPlay Club Restricted In Any Country?
Since obtaining a license, BitPlay Club has sadly had to adhere to international gambling laws and is now restricted in a few countries. Thankfully, there are not too many countries on the exclusion list.
However, if you are playing BitPlay Club from either Aruba, Bonaire, Curacao, France, The Netherlands, Saba, Statia, St Martin, or the USA, you will be unable to access this site. Even if you are a legal resident of another country, your access will be restricted when trying to log in from any of the above countries.
What's The Site Like To Use?
As the site only features 3 games—the 2 lotteries and Roulette—the site is very easy to navigate. The rules for all games are explained in detail and the provably fair algorithms are explained as best as possible (although it does require a decent knowledge of coding to fully understand).
There is also a well-stocked FAQ section on the site that can be easily found from the drop-down menu. This contains lots of information, so be sure to have a look if you feel confused.
The site itself is available in five languages: English, Vietnamese, Thai, Russian, and Portuguese.
How Does The Lottery Work?
There are 2 daily lotteries to get involved in, a smaller, cheaper one called "5-36", and one that is a bit more expensive called "6-45". These are daily lotteries and the numbers are drawn at 8.00 am UTC every day.
The smaller and cheaper lottery requires you to pick 5 different numbers between 1 and 36, whereas in the larger and more expensive lottery you must pick 6 numbers between 1 and 45. Tickets cost 0.00005 BTC and 0.0001 BTC respectively, and all numbers must come in to win the jackpot. The order of the numbers is not relevant, so you may fill out the form in any order.
The odds of winning the jackpot on each lottery are 1:376992 for the 5-36 game, and 1:8145060 for the 6-45 game.
This makes the second lottery much more difficult to win. However, the jackpot is generally much higher. The most recent jackpot to be cashed out was 88.4 BTC (equivalent to over $5 million) compared to the last jackpot in the smaller lottery, which was only 6.8 BTC (roughly $446,000).
In both lottery games, players may still win a set amount of cash even if they only correctly guess some, but not all, of the numbers. However, the jackpot will roll over to the next day and accumulate constantly until it is finally won by someone.
BitPlay Club also has a useful feature that shows you how many times a number has appeared in each lottery. This gives a better insight into which numbers appear more frequently, and which haven't appeared in a while.
Are There Any Casino Games?
BitPlay Club also hosts a European Roulette game that is available to play by anybody, even without registration.
The game isn't your standard European Roulette game, however. The outcome of each round is decided by the generation of blocks on the blockchain. This means the games take around 10 minutes to play out as the site needs to confirm the block 7 times.
You can play the game whenever you want, but you will need to wait for the game to verify the blocks before you find out if you win or lose. If you'd like to play without registering, simply connect your crypto wallet to the site and bet on any round. If won, the money will be instantly sent to your wallet address.
Due to the automated nature of the Roulette game, all winnings are automatically deposited in your wallet and the site can't cancel or delay your winnings at any time.
Can I Bet On Sports Or eSports?
Sadly, no. The site is essentially just an online lottery, so sports betting is not featured on the platform and probably won't ever be. If you're looking for crypto sports betting, there are tons of sites out there to choose from, but BitPlay Club isn't one of them, unfortunately.
Can I Play Any Games For Free?
At BitPlay Club, users have the option to play demo versions of both of the lotteries. The way it works is rather odd, however, and doesn't make for great playing as no real money is wagered.
Simply select the numbers you would like, just as you would normally do in the lotto, and click the button "How much could I win in past draws?". This shows you the outcomes of every lottery draw since #1 and compare your numbers to all of them, showing how many times you could have won in the past.
The European Roulette game is not available to play in a demo version.
Is BitPlay Club Provably Fair?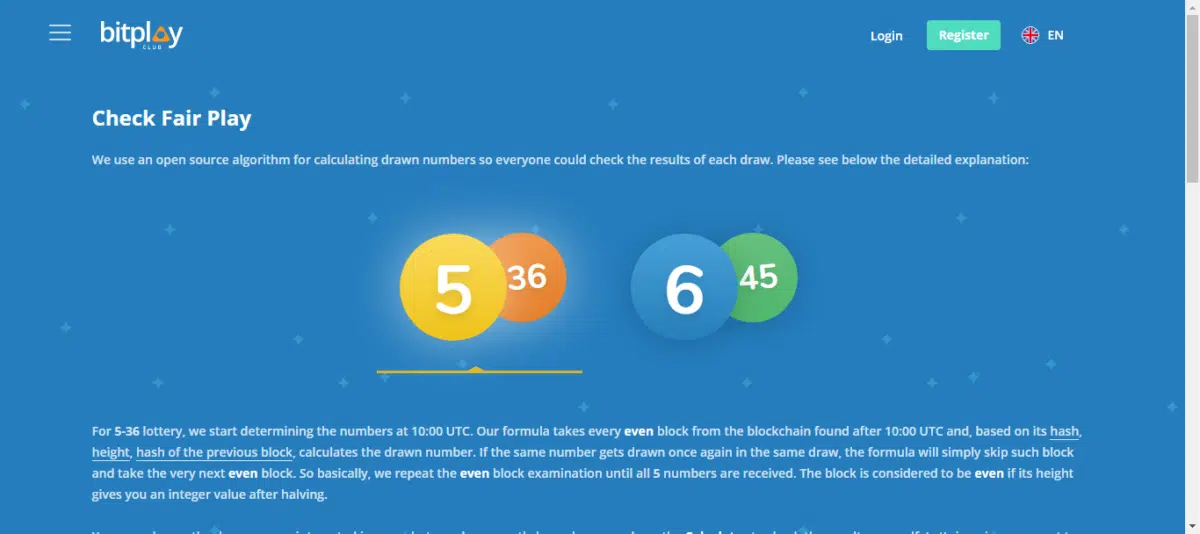 As the lottery draws are run on blockchain technology, it is easy to prove fairness. BitPlay Club uses an open-source formula that they display for all users to see.
It's all a bit of technical and mathematical jargon, but it does mean that everyone can have a look at the results of each draw and compare them to the common formula. Anyone with even a basic knowledge of this sort of thing can prove there has been no manipulation from the house.
There is also a calculator available on the platform that players can use to help work out the formula and prove the outcomes have been fair. It is this transparency and fairness that has gained BitPlay Club a great reputation and regular following.
If you have a general grasp of coding, you can learn more about the formula used to randomly generate numbers here. If like me, you're not so tech-savvy, you can try showing the page to someone who has a bit more knowledge.
The Roulette game at BitPlay Club is also provably fair, as the game runs on the Bitcoin blockchain. The blocks in the chain are what is used to decide the outcome of the roll, and all results are available for viewing on the blockchain.
Does The BitPlay Club Offer Any Bonuses?
Unfortunately, due to the nature of the site, no bonuses are offered for either new or existing members.
BitPlay Club may have missed a trick here, as they could easily offer something such as a risk-free bet or even a small deposit match bonus to entice new players and increase their revenue flow.
Hopefully, it's something they'll look at adding in the future, but for now, you'll have to survive off your funds without any extra bonuses.
Strictly 18+ ONLY. Bonus Terms and Conditions Apply. Gamble Responsibly. Sponsored.
What Currencies And Payment Methods Are Accepted?
Everything on the site operates on the Bitcoin blockchain, and so your balance is always viewed in BTC. The site processes Bitcoin transactions itself but, to allow people to play with other altcoins, BitPlay Club uses an app called Changelly to process transactions from other cryptocurrencies.
Players can deposit money in pretty much every altcoin on the market today-even coins such as SAND and MANA that are generally only used in certain online games-and Changelly will transfer it to BTC for playing purposes.
Sadly, however, withdrawals can only be made in Bitcoin, so make sure you have a wallet that accepts BTC.
All transactions made with cryptocurrencies carry some mining fees. This is money that is needed to support the blockchain and keep it running. Many crypto betting sites will pay these fees for you as an extra reason to play with them. However, at BitPlay Club, these fees will need to be paid by you.
For all deposits besides Bitcoin, and also for all withdrawals including BTC, BitPlay Club will take an extra 0.5% for commission.
Are There Limits On My Deposits and Withdrawals?
For all altcoins, there is a minimum deposit of 0.1 mBTC or equivalent. This is equal to roughly $6.30 at the time of writing, which isn't too bad, and also works out as the exact amount needed to buy one lottery ticket for the 6-45 game, or 2 for the 5-36 game.
There are no maximum deposit amounts, but there are maximum withdrawals of 1 BTC per week, so don't overdo it on the deposits as it may take a long time to get the money back out.
A minimum of 1 mBTC (or 0.001 BTC) is required to request a withdrawal.
Can I Remain 100% Anonymous At BitPlay Club?
Upon registration, the site mentions that a KYC (know your client/customer) check may be necessary when processing a large withdrawal. However, in general, everything on the site can be accessed simply by registering with an email address.
The anonymity is especially strong if you choose to play the Roulette game, as it connects directly to your crypto wallet and pays directly into it without even requiring registration.
How Secure Is the BitPlay Club?
There isn't much information to be found on security at BitPlay Club's site.
Many crypto-based casinos use offline "cold wallets" to store their users' funds to keep them safe from hackers. However, BitPlay Club has links to prove it does indeed own the funds necessary to pay out a jackpot. This means that maybe the funds are stored online.
For an extra layer of personal security, users have the option to set up 2-step authentication for access to their account by linking a phone number.
Why Play At BitPlay Club?
Numerous advantages come with wagering at BitPlay Club. For instance, you will not be scammed since the website has incorporated blockchain technology, thus removing human intervention. Gamers on this platform are allowed to check the randomness of the draw quickly by easily accessing both the formula used and the draw. Moreover, BitPlay has intentions of rolling out free lotto tickets to include new punters in the future.
How Can I Contact Customer Support?
Sadly, there is no easy way to get in touch with customer support should you have any issues. There is no live chat, no phone number, and not even an email address to send a message to. Even the 'Need Help?' button located on the drop-down menu simply takes you to the FAQ page.
BitPlay Club does have accounts on Twitter and YouTube, so this is probably your best option for trying to get in contact with someone.
Is There A Referrals Program?
Other than the above, BitPlay Club accords punters an affiliate program. Any player who comes aboard through your invite earns you a 5% commission. The instant payout system is motivation enough to play on this platform. Through these payouts, you can gain access to immediate withdrawals. Make quick withdrawals regardless of whether it's day or night.
Summary:
BitPlay Club is an original and interesting idea. Utilizing the blockchain itself to make daily lotteries and regular roulette spins is pretty genius if you ask me. However, the site seems to lack many things that would have made it great.
Total lack of customer support is a big issue. If you have any problems, you are left to your own devices to work them out.
Something in the way of a bonus would be a great way to entice new users or keep older members more interested. At the moment, there is nothing to get excited about joining this platform. Because lotteries are so difficult to win, any form of promotion would be appreciated and could increase their annual revenue.
Although the Roulette game is interestingly done, it takes way too long (over ten minutes) to find out if you've won. After you've bought your lottery tickets for the day, there isn't much else on the site to keep you entertained. Decemberbe BitPlay Club should think about other blockchain-based games they could add to the platform.
There are positives, however. Being blockchain-based, the site accepts payment in pretty much every single cryptocurrency available. So, wherever your money is invested, you can get involved here.
Anonymity is one of the driving forces behind the cryptocurrency boom, and at BitPlay Club, members can use the site and be sure none of their personal information is floating about.
Being provably fair is something of a necessity nowadays, so it's great to see BitPlay Club offers all the formulas for users to check the fairness themselves.
Overall, the site is promising and has some great ideas. However, it is just fairly badly executed. If the team addresses the few minor issues they have, then this site has so much potential.
BitPlay Club FAQ
Is BitPlay Club legit?
BitPlay Club N.V. is a firm that is fully incorporated and operates from Curacao. The gaming company operates under the number 146561. Further, the agency has its registered office at E-Commerce Park Vredenberg Dr. M.J. HugenHoltzweg Z/N. In essence, the BitPlay Club gambling website is a fully licensed and regulated Casino that abides by Curacao's laws. Its license number is 365/JAZ, while the Sub-License is GLH-OCCHKTW0704102018.
Is BitPlay Club any good?
You may find the gambling choice very limited at the platform which is one major negative but on the bright side, all of the available titles are blockchain provably fair. You will also get a better chance of winning due to the odds when compared with traditional real money options that offer similar services.
Can you withdraw the BitPlay Club bonus?
Before you can withdraw you will need to meet the minimum withdrawal terms along with any wagering requirements if the promotion demands this. Make sure to check before you redeem as these can change.