Fairlay Coupons 2022
Fairlay.com is somewhat different from the ordinary wagering online casino. Fairlay Casino is a modern platform that allows punters to place bets on future outcomes. Unfortunately, for this gambling platform, players will not find any bonuses or coupon code promotions in the month of December 2022. However, there is an incentive of none commissions charged on sports bets.
Fairlay.com Summery
To cut a long story short, Fairlay is a gambling arena for guys versed in cryptocurrency, especially Bitcoin. The cryptocurrency wallets, as well as the core concepts of blockchain, are heavily featured.
Gamers need to understand how transactions are done; they need to know how to comfortably make deposits and withdrawals. Other than the above, Fairlay.com website may prove difficult to the non-savvy, and they need to revamp the design and layout.
But there is some good, Fairlay takes ample time to explain to gamblers how to place bets, market projections, how winnings are calculated, and how payments are made. We also discovered that there is an active forum that is easy to navigate throughout the website.
There is also a 24/7 live chat feature, email support, as well as helpful FAQs. Following the transparent Bitcoin nature, the API and the code are available for viewings.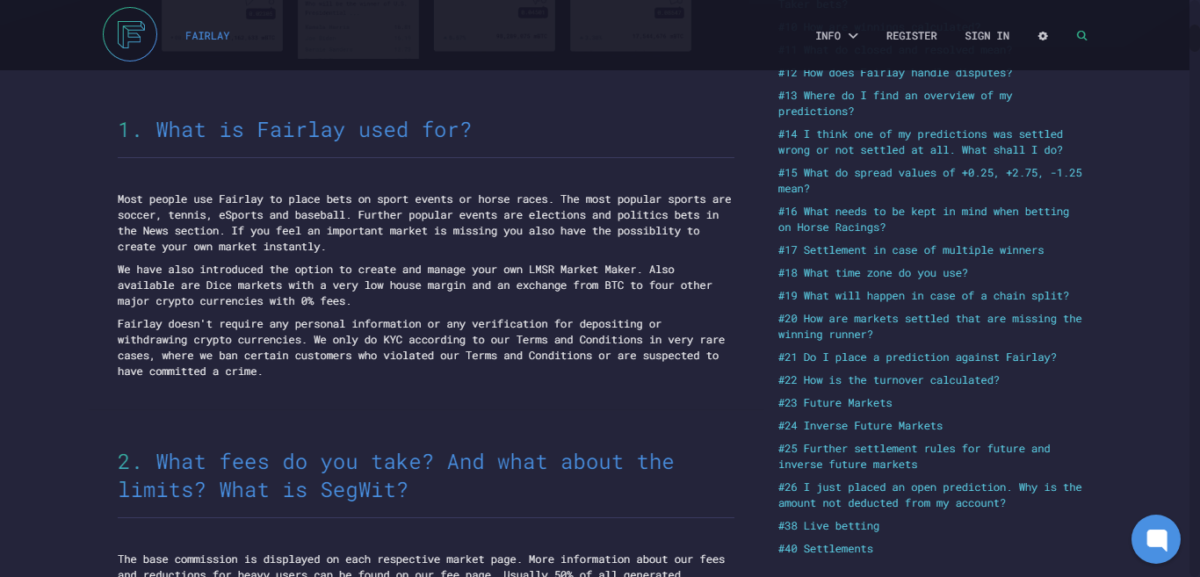 What Is FairLay?
Fairlay is a decentralized, cryptocurrency betting platform that allows its users to make bets on a variety of scenarios, including politics, sports, the economy, and general world news.
Instead of betting directly against the house, Fairlay is a peer-to-peer platform where users can create their own markets and take bets from other users, with Fairlay taking only 2% as its commission. This allows Fairlay to offer much better odds than other sportsbooks can.
As a betting exchange, users may choose their own odds if they desire, which is pretty cool, but it can be difficult to find other users to bet against you.
The site has been around since 2014 and has come a long way since then, constantly changing the platform to try and stay fresh and relevant in the ever-changing world of online betting.
Fairlay does not seem to hold an official license, which is generally a red flag. However, as a betting exchange that simply takes a commission, it is somewhat of a grey area as it does not earn any money from losing bets.
Many people found the platform difficult to use back in its first few years, but has that changed over the years? We take an impartial look at this highly interesting betting exchange to see if it has become more user-friendly. So, if you're interested in joining this interesting betting site, then read ahead for everything you need to know.
How Do I Get Started?
When you first make your way onto the main page at Fairlay, you will discover pages full of information. These are for potential users to look at to learn a bit more about what Fairlay is about. If you want to have access to the main website, you will need to create an account.
When setting up an account at Fairlay, you will find two options for accounts; instant and normal. If you want to get started right away, you can create an instant account at the click of a button and this will take you through to access most of the features at Fairlay. You can then change your account to a normal account later on if you wish.
If you want extra security for your account, then you can go straight into a normal account. For this, all you will need to do is enter your email address (this will need to be verified) and choose a username and password.
After you've got your account up and running, all you will need to do is deposit some cash by clicking "deposit" and connecting your crypto wallet. Now you will be able to place bets on any of the open markets.
How Does It Work?
As a betting exchange, Fairlay joins people together to bet against each other. All transactions are priced in Bitcoin. However, the site accepts payment in a few of the leading cryptocurrencies such as LTC, ETH, BCH, and DASH.
Users can bet on markets that have been created by other users, or they may create markets of their own. However, this requires a decent prior knowledge of coding.
The website also features a handy crypto exchange, allowing users to exchange their altcoins for any of the others used on the site without incurring any fees.
You won't find much information on the "How to use" page on Fairlay's website, other than how to deposit and withdraw your money, so you'll need to play around a bit on the site to find the other features.
What Can I Bet On?
The most common markets to bet on at Fairlay are sports. The site covers loads of sports, including soccer, American football, basketball, baseball, and many more. It is also possible to bet on horse racing, although this has a dedicated section for itself.
There are also some less common, niche sports available for betting on, such as chess and Aussie rules football.
Beyond sports, users are essentially free to create bets on any market they want, such as politics, world news, and economics (such as stock and crypto values).
Sadly, as Fairlay is not a bookmaker, and you are only betting against other users, your choices of bets are fairly limited. Most bets are essentially straight win/lose bets. There is an option to do "parlay" or accumulator betting. However, this is hosted by a third party affiliated with Fairlay, and clicking this will take you to a different website.
Can I Bet On eSports?
Fairlay fully supports eSports betting, and the site features tons of different games to be bet on. I haven't seen this many different options for eSport betting at any other site yet, so if you're into this style of betting, you'll feel at home here.
Counter-Strike features most prominently, with loads of different tournaments accepting markets. DOTA 2 also receives a lot of coverage here.
Other eSports open for betting are King of Glory, League of Legends, Overwatch, PUBG, Rainbow Six, Starcraft, Valorant, and World of Warcraft.
Can I Bet On Live Games?
If a match has already started, it will appear in the 'Live' section of the website. However, unlike a regular sportsbook, the game is not streamed live for users to view and the odds don't change.
Live streaming is a concept that is trending and many sportsbooks are starting to stream the games live, but because Fairlay is a betting exchange, not every match is going to have bets placed on it, so it is unfeasible for Fairlay to pay to stream each game.
How Do I Organise A Bet?
Organizing a market at Fairlay is similar to other betting exchanges, and so if you've ever done this before, you'll find yourself right at home.
If you're new to this concept of betting exchanges, then creating a completely new market is as straightforward as possible and there is a simple tool to do this. Simply click the drop-down menu under your username and select "new market" to set it up.
Here you can select what category your market will be in, a brief description of the bet, and the time limit on it. Remember that all times are listed on the site in UTC, so bear this in mind when creating your market.
Once your market is open, you can not change the odds, even if the bet remains unmatched. You will have to delete the market and open a new one, which can result in more commission for the site.
How Do I Respond To Someone Else's Bet?
A simple click on the Fairlay logo will take you to the main betting page. Here, you can see what bets are available and other important information such as when the end date of the bet is and what the odds are.
From here, placing a bet is simple. Simply choose your category, find a market that appeals to you and decide which bet you want to place. All your bets can be reviewed at any time in the drop-down menu when you click on your account profile.
Remember that all bets come with time limits, and for bets that don't involve sports matches, sometimes the market can be proven either correct or false before the time limit is up.
For example, if a user creates a market offering odds on whether an album will sell at least 10,000 copies before the end of the week, and by Tuesday this album has already reached 20,000 sales, then, although the market will still be open at Fairlay, there will be no chance of winning if you bet against it. So please ensure you research a bit about what you're betting on before placing a bet.
What Are APIs?
An API (application programming interface) is a program that allows users to write programs in which they can view bets and other data on the site without ever needing to access the main website. This can be fairly daunting as it requires some basic knowledge of programming and coding, and isn't necessary.
Using an API can be useful for many users as it can keep track of new markets arriving at Fairlay when bets are closing and also keep up to date with anyone who is betting on your markets.
There are a few options for servers and programming languages available. Fairlay fully supports Python and Net C# languages on its public client servers. If you would rather use another language, then you can use a private server. For access to these, you will first need to email Fairlay.
For more information, you can view the API page here.
Are There Any Casino Games To Play?
Fairlay does host a decent version of the game Dice, in which users predict whether they will roll higher or lower than a certain number. This game is commonly found in many other online casinos in various versions.
While this game is fun (and can pay out some huge amounts), it does lose its appeal rather quickly and, to be honest, isn't something that is needed at a betting exchange. But it is a decent time killer if you're waiting for a match to play out.
How Easy Is The Site To Use?
The site seems to be very heavily marketed at users with a strong knowledge of coding and programming, and much of the wording used on the site is very confusing to your usual sports bettors.
The site is overly complicated and hard to understand at best, or at worst it is baffling and unusable. I've been trying to get to grips with it for days and still don't quite get it.
While it looks professional, you can easily see this site is designed for those people who want to organize bets rather than place bets. This is reflected in the rather unbalanced number of open markets and matched bets. There are hundreds of open markets to bet on, but very few (if any!) have already been bet on.
When it comes to graphics, however, the site has me strangely captivated. I love the color scheme and the logo is like one of those optical illusions.
Are There Any Bonuses?
As a betting exchange, Fairlay does not offer any form of bonus or promotion to its users, whether new or old.
Recently, lots of sports betting sites have begun to offer risk-free bets or some free money upon registration. However, as users at Fairlay are betting against each other, it would be unfair to offer risk-free bets as the market hosts would be losing out.
Strictly 18+ ONLY. Bonus Terms and Conditions Apply. Gamble Responsibly. Sponsored.
Is There A VIP Club?
As with most online betting platforms, Fairlay offers a loyalty club to encourage users to interact more with the site and keep getting involved.
Unlike other loyalty clubs that only give you points for placing real money bets, Fairlay offers points for many things, such as depositing, withdrawing, creating a market, placing a bet, and even simply logging in.
These points can be accumulated, allowing users to progress through the 5 tier system. As you reach the higher levels, you will be entitled to many features, such as cheaper withdrawals and the option to offer smaller commissions to Farilay when creating a market.
What Currencies Are Accepted at Fairlay?
Fairlay accepts payment only in cryptocurrencies, and fiat currencies are not allowed in any way. The accepted currencies at the moment are BTC, BCH, ETH, LTC, and DASH.
All deposits are free of charge and come with no maximum limit. At the higher levels of the VIP club, users will pay fewer fees when withdrawing their cash, but for lower-level users, there is a 0.5 mBTC charge for withdrawals.
Withdrawals generally only take 24 hours if the amount is under 5 BTC. However, due to the use of a 'cold wallet' to store funds (more on this later), larger amounts can take time to process.
Can I Remain 100% Anonymous at Fairlay?
For the most part, people can freely access all of the features at Fairlay without ever needing to enter any personal information. Using an instant account means that an email address is not required. However, this does mean that if your computer logs you out of the site, it can be very difficult to get back into your account.
Even using a normal account, the only information required is an email address, and, as all transactions are made in cryptocurrencies, no information is given when depositing or withdrawing funds.
On very rare occasions, if Fairlay believes one of its users is abusing the site somehow or using the site for illegal activity, then they may ask for a KYC (know your customer check), but for the average user, this will never be an issue.
How Can I Be Sure My Money Is Safe With Fairlay?
Fairlay stores all its users' funds in a 'cold wallet'. This is similar to an external hard drive or memory stick but specifically for storing cryptocurrencies. As your money is kept safe in a hard copy, it is free from malicious hacking and fraud as none of the funds are kept online.
For transparency, Fairlay offers a 'proof of reserves' that users can use to verify that all of their funds have been moved to this cold wallet. Fairlay claims that they hold over 100% of users' money, in case they need to pay out a large amount.
Are There Any Restricted Countries?
Sadly, like every other online betting platform, Fairlay is subject to restrictions in certain jurisdictions. However, due to the nature of the site, this is a rather small selection, meaning users can get involved from most countries in the world.
The only restricted countries are the UK, USA, Costa Rica, Iran, and North Korea, and Fairlay tracks IP addresses, so if you're from these 5 countries you will be unable to even register an instant account here.
Is It Legit?
This is often the biggest issue, especially considering Fairlay does not hold an official license and therefore is not subject to gambling laws and its users have no protection.
On the whole, the site seems to generate generally positive reviews, and fairness isn't an issue as the site simply matches players who want to gamble and takes no money from losses (all of its revenue comes from commission).
However, some users have experienced very long waits when it comes to withdrawals-much longer than it says on the site. So, if you're impatient, this may be an issue.
Is There Live Customer Support?
Customer support is available via a chat bubble at the bottom right-hand side of the screen. This service is available 24/7, but sometimes it may take a few moments to get a reply.
Fairlay also has accounts on Facebook, Twitter, Discord, and GitHub, and also hosts a forum of its own on the platform, so you can also get in contact via any of these other methods if you wish.
In Conclusion
Overall, Fairlay shapes up to be a pretty cool site, offering many unique features that other sportsbooks don't. As a betting exchange, the site makes its revenue simply from the commission and so doesn't try to scam users with manipulated random number generators and the like.
At first glance, the site seems brutally complicated and it took me a few days to get my head around it and all the jargon used in the information sections. However, once you play around a bit, you'll find it is a lot more basic than it looks, and everything seems to be in a sensible place.
I love the concept of betting exchanges, and this one is even better than most as it allows users to place bets on, well, anything and everything. The addition of the Dice game, while fairly unnecessary, does add a little bit more to the site and makes for a great time killer.
Very few restricted countries mean more people can get involved than at other betting exchanges.
Using cryptocurrencies as the sole form of payment is fantastic and provides users with all of the benefits associated with them, such as anonymity and lower transaction fees, but a few more altcoin options would be appreciated.
Fairlay FAQ
How long do payments take to be processed at Fairlay?
All payments are carried out through the use of crypto, therefore should be complete within 24 hours of the request.
Is Fairlay any good?
If you want to try something new and experience gambling on the blockchain, it is a great platform to explore. You will find lots of unique bets with fantastic odds attached to winning.
Do you have to provide ID to withdraw funds from Fairlay?
You do not have to provide the platform with any personal info or carry out identification verification to be able to withdraw your fund.