Sportsbet Coupons 2022
A sports betting site with a difference! We took an in-depth look into SportsBet.io to find the answers to all your most important questions: Is it fair? Is it legit? Can I make real money playing? Do they offer no-deposit bonuses? Are there any risk free bets? Read on for the answers to all of these questions and more!
With sports finally back to a regular schedule after a hard year of lockdowns and restrictions, there's never been a better time to get involved in sports betting. We've already had the delayed Euro cup and Copa cup; the Olympics are now getting into full swing and soon we will be welcoming the full return of all top league sports in Europe this fall.
But, SportsBet.io isn't just a bookkeeper, they also host a wide variety of games in their 'casino' section on the site, including many classic table games and card games, alongside tons of modern, exciting slots and loads of exclusive skills games. SportsBet.io is the official partner of leading casino site BitCasino.io.
Before we get to all this exciting stuff, let's get all the boring information out of the way first.
SportsBet.io was established in 2016 and is owned and operated by mBet Solutions N.V, a company that is fully licensed in Curacao, meaning they are subjected to regular audits to ensure they adhere to international laws regarding fair gambling. Holding a license helps reassure users that the site is legitimate, as any funny business would result in the loss of their license.
They proudly display three awards, given by some of the most trusted online casino reviewers on the internet; namely, EGR, who awarded them the 'Brand of the Year', AskGamblers, who named them 'Player's Choice!' and they also received an SBC award in 2020. SportsBet.io is also an official partner of many big names in the world of football, including Arsenal F.C in England and Sao Paolo F.C in Brazil, where SportsBet.io features prominently on their club's t-shirts.
Originally only accepting regular, fiat currencies as payment, SportsBet.io has recently begun accepting a wide range of cryptocurrencies. This offers users many of the great benefits affiliated with using cryptocurrencies, such as anonymity, faster transactions, and fewer fees. If you are new to using crypto, SportsBet.io has many articles explaining the benefits and how to get involved in this growing trend.
SportsBet.io has added tons of new features recently to ensure they stay relevant and up to date in a market that is quickly becoming oversaturated, including hosting their site in 10 languages to appeal to a more global audience. Language options include:
English
Thai
Japanese
Vietnamese
German
French
Turkish
Portuguese
Spanish
Chinese
If you're interested in joining one of the most interesting sports betting sites on the internet, then read our comprehensive review for all the information you need to know before joining.
What Is The Bookkeeper Part Of The Site Like?
As you'd probably guessed, SportsBet.io is predominantly a sports betting site or online bookkeeper. This is how they originally started and it's nice to see that, despite offering a myriad of games in their casino section, the focus still seems to be primarily on this section.
The sheer number of sports available is insane. As you'd expect, all the regular options are included, such as soccer, American football, baseball, and basketball, but SportsBet.io also features many niche sports, such as darts, bowls, and badminton. And now, with the Olympics currently being held in Tokyo, SportsBet.io also includes options to bet on all the sports featured in the games, which include skateboarding and surfing.
It is also possible to bet on greyhound racing, horse racing, and motorsports.
Not only are there a ton of sports available to bet on, but the betting options are also highly substantial, from basic win/lose bets to handicap bets and many others. You can bet pre-game or in-game and you can also set up accumulators (where you bet on multiple games for a bigger payout). SportsBet.io offers very competitive odds on all games.
Sadly, however, SportsBet.io does not stream any of the sports live, so if you prefer to bet in-game, you will need to find a different stream. The odds are updated regularly during the games. A cool feature here is what they call 'pulse bets'. These are available in-game and offer the chance to bet on whether the next goal will be scored in the next 30 seconds, 1 minute, 5 minutes, etc.
Can I Bet on eSports?
If you prefer the thrill of betting on eSports, then you're in luck, as SportsBet.io also offers six of these; namely eSoccer, eNBA, Call of Duty, DOTA2, League of Legends, and CS: GO.
As is usually the case with eSports, betting options here are a lot more limited, generally sticking to win/lose bets. The odds are still very good, however, and if you understand this style of betting, you could stand to win some decent payouts.
Do They Offer Casino Games?
A new feature available at SportsBet.io is the casino games section. This may have been added as a backup while sports were on hold during the pandemic, but now includes many titles from some of the most well-known developers in the industry, including OneTouch, Evolution Gaming, and Pragmatic Play.
These games have been divided into categories for easier browsing, and the categories include slots, progressive jackpot slots, table games, bingo, skill games, and virtual sports. In total, SportsBet.io hosts over 3,500 games, which makes this library one of the larger offerings amongst online casinos.
Most of the games are available to play for free in demo mode, offering users the chance to learn the various rules of a game before wagering their hard-earned cash.
What Are The Slot Offerings?
SportsBet.io hosts a plethora of slots that have been split into regular slots and progressive jackpot slots. Progressive jackpot slots offer a more lucrative payout as the total jackpot to be won is compiled from every user's bets and becomes steadily higher until the jackpot is won, and can sometimes be worth hundreds of thousands of dollars.
All the slots are well designed with loads of variety when it comes to aspects such as reels, pay lines, and themes, so every game will offer a truly unique experience. Graphically, they are all beautifully rendered and the play is smooth and sleek.
What Are The Table Game Offerings?
Once again, SportsBet.io features tons of games in this department too. Options include all the classic versions of Roulette, Baccarat, Blackjack, and Poker, along with many modern variations of these, such as Texas Hold 'Em Poker, Speed Baccarat, and both European and American styles of Roulette.
There are also some less common games available, such as Russian War, Andar Bahar, Football Studio, and Mehen-a Snakes and Ladders-type board game. With such a diverse library, it is easy to find yourself a new favorite.
Do They Host Live Dealer Games?
Coinciding with the release of the casino section, SportsBet.io has also teamed up with some real casinos to broadcast games live on their platform. This style of play offers the distinctive experience of gambling in a real casino while never having to leave your house.
Most of these games on offer are hosted by Evolution Gaming and OneTouch, both of whom are leaders in this department. The settings and environments are stylish and professional, and the experienced croupiers are friendly and create a great atmosphere.
The games available here include Poker (and many varieties), Roulette, Baccarat, Blackjack, Deal or No Deal, and many Wheel of Fortune type games.
While the play is generally smooth if you are playing on a good internet connection, please remember that, as these games are broadcast live, if your connection is too slow, you may miss rounds and therefore lose your bets.
What Are The Specialised Games?
If you're looking for an exclusive experience, then you're in luck as SportsBet.io offers a decent selection of games that you generally won't find anywhere else. These are split into skill games,' 'video bingo,' and 'virtual sports.'
The virtual sports section offers some funny variations from their professional eSports betting area, including virtual ice hockey and virtual cockfighting. While offering a more casual alternative to betting on eSports, they are still a lot of fun, especially the cockfighting game.
Video bingo hosts an extensive selection of bingo games, all with varying lines and themes, and can offer hours of amusement if this is your preferred style of betting.
The section labeled skill games' is by far the most unique here. These remind me of many popular games from the start of the smartphone revolution, but with the added chance to win money. Fun titles include 'Hippie Days,' which is similar to the classic game Bejewelled, Courier Sweeper, which is similar to Minesweeper, Coin Flip, and Crash.
Can SportsBet.io Prove Their Fairness?
Many online casinos these days offer users access to the formula that is being used to decide the outcome of each round. This can be used to verify that their RNG (random number generator) has created a truly random result that is unable to be manipulated by either the house or any user. However, SportsBet.io does not offer the formula for any games.
Instead, SportsBet.io displays the live RTP (return to player) for every game, with results from the last hour, day, and week. Generally, the RTP on most games is between 95%-98%, which is a standard for the industry.
Also, SportsBet.io proudly displays their license from the government of Curacao, a signal that they are regularly audited to ensure they adhere to fair gambling standards.
Do They Offer A Welcome Bonus?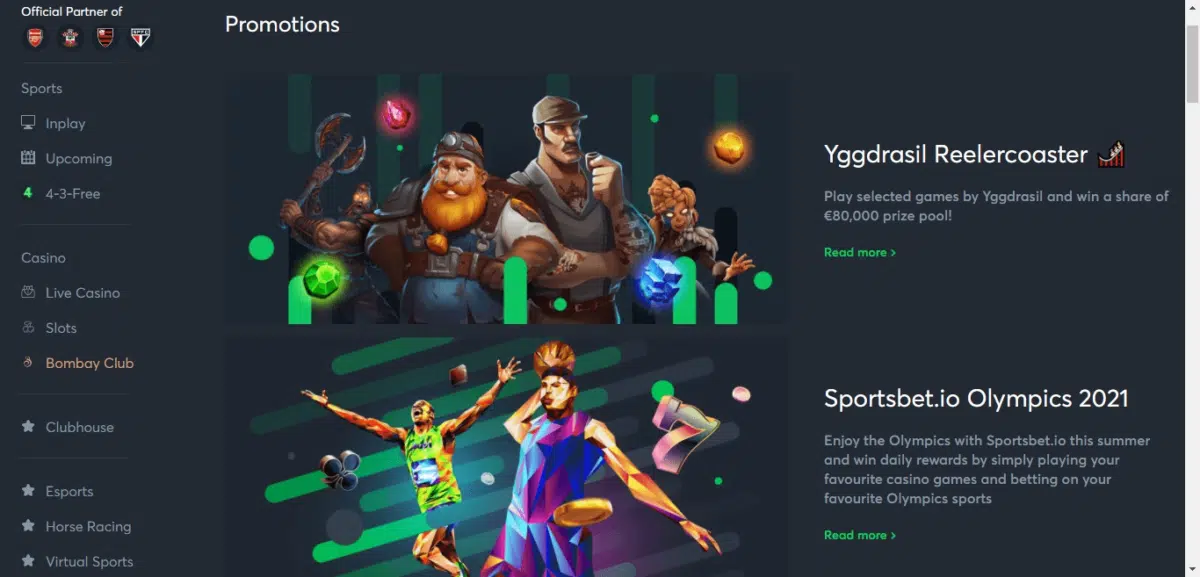 Unfortunately, SportsBet.io does not offer a welcome bonus to new users. Many online casinos utilize these to entice new users to the platform, but SportsBet.io has only recently joined the world of online casinos and has not yet created a welcome package.
Strictly 18+ ONLY. Bonus Terms and Conditions Apply. Gamble Responsibly. Sponsored.
Do They Offer Any Other Regular Promotions?
Even though they don't offer a welcome bonus, don't think that SportsBet.io is stingy when it comes to offering promotions, as they are constantly offering lucrative promotions and tournaments to make the most of your money.
Currently on offer in the casino are chances to win a percentage of your cashback while playing any live dealer game by OneTouch, random drops and wins in any live game by Pragmatic Play, and many daily chances to win free spins or playable cash by betting on any of the Olympic Games.
There are also tournaments available on selected games that offer the top scorers a share of a huge prize pool.
In the sportsbook section, there are currently two no-deposit promotions offering free bets on soccer games. 4 – 3 Free offers 4 markets on one game (similar to a 'bet builder'). Markets include how many goals each team will score, how many cards they will receive, and more. If you correctly guess all 4 of these you will win a $50 free bet, and if you score 3/4 then you will receive a $10 free bet. Prizes are paid in Bitcoin.
Free 6-6-7 is a free accumulator betting offering users the chance to correctly guess the scores of 6 upcoming games. If you correctly guess all the scores, you can win $100,000 worth of Bitcoin. If you correctly guess all the winners, but incorrectly guess the scores, you can earn a consolation prize of a $10 free bet, paid in Bitcoin.
Promotions are regularly changed, so make sure you keep an eye on the SportsBet promos page to stay up to date with the current offers.
Can I Join A VIP Club?
As you bet at SportsBet.io, whether you are betting in the casino or the sportsbook sections, you will earn points for every $1 wagered. These points can be accumulated to progress through the various tiers in their 'Clubhouse.' Higher levels will also receive multipliers for these points, so at the top tiers, it becomes easier to earn more points. Once you reach a new level, you will also receive a handful of one-off rewards (the amount and cost of each rise with each level).
At the end of every month, your points and rewards will be reset, giving you another chance to rise through the levels and receive more rewards.
Once you have wagered enough money at SportsBet.io, you stand the chance of being invited to their prestigious VIP Club. Once here, you will have access to a personalized VIP manager who can help you make the most of this experience. You will also have access to exclusive offers and bonuses such as cash prizes or free spins.
The most compelling feature of the VIP Club is that you may receive free tickets to exclusive events hosted around the world. These generally feature but are not limited to, sports matches and weekend getaways or cruises. 5-star treatment is guaranteed to the lucky player who receives these tickets, including full board in luxury hotels.
Remember, this VIP club is invite-only and you will need to bet big and make some waves to be considered.
Are There Any Wagering Requirements?
A wagering requirement of 1x is necessary before a withdrawal of any cash deposited into SportsBet.io. This is to adhere to international laws about money laundering. If you are depositing using Moon Pay, then a 5x wager is required.
Any money made from free bets will be able to be withdrawn instantly, minus the amount of your free bet. So if you had a $10 free bet, and you won an extra $10 from it (making $10 in total), you would be able to cash out $10, as your $10 free bet will be subtracted from your withdrawal.
What Currencies and Payment Methods Are Accepted?
SportsBet.io accepts payment in a wide variety of currencies, including both fiat and cryptocurrencies. Fiat currencies that are currently accepted include CAD, EUR, BRL, JPY, CNY, and INR, whereas accepted cryptocurrencies include BTC, ETH, LTC, TRX, XRP, ADA, USDT, and SOP.
Payment in fiat can be made via all major credit and debit cards and many leading online banking services, such as Moon Pay, NETeller, and Skrill. Deposits generally happen within minutes, whereas sometimes it may take up to 5 days to process a withdrawal. Some fees may be incurred upon withdrawal of fiat cash.
If you are planning to play with cryptocurrencies then transactions are quick, easy, and with limited fees. Simply copy and paste your unique code to your crypto wallet (or scan the QR code) and enter the amount you would like to deposit and your funds should be available in your account in minutes. Withdrawals are equally streamlined and incur much fewer fees than fiat currencies.
What Are The Deposit And Withdrawal Limits?
These limits vary depending on your preferred currency, but generally, a minimum deposit of $10 (equivalent in your currency) is required. There is no maximum limit on deposits.
There is no maximum withdrawal, but withdrawals over 50 BTC or $2000 (or equivalent) will need to be transferred to you in installments. You will need to withdraw at least $10 (or equivalent) unless you are using services such as Skrill or NETeller, in which case a minimum withdrawal of $20 is required.
How Does SportBet.io Ensure My Money And Information Is Secure?
If you are depositing your cash in crypto, then very little information is required of you. This is one of the main perks of using cryptocurrencies. However, if you are playing using fiat cash, then you will need to offer a lot of your personal information to guarantee you are old enough to gamble and that gambling is not illegal in your jurisdiction. This includes undertaking a KYC (know your customer) check upon withdrawal.
Don't worry though, as SportsBet.io uses the most modern, up-to-date SSL encryption to ensure the safety and security of all transactions and all your personal information. A quick read of their privacy policy will show you that none of your sensitive information is given to third parties, and SportsBet.io only retains your information for legal and gaming purposes.
What Is The Site's Usability?
Often, sites that host a library as substantial as this one make it very hard to find their games in amongst the overcrowded mess. However, SportsBet.io is well laid out and easy to navigate, with all their games separated into many different categories for quicker browsing. You can filter by providers, themes, genres, and many more options.
It is easy to flick between the sportsbook and casino sections of this site, and everything else you may need, such as your account wallet, is all available.
Regarding their color scheme, it comes with two options labeled AM and PM. AM makes the theme of the casino brighter, with many whites and light greys, but I don't like this style. PM makes everything darker and less intense in the eyes.
Can I Play SportsBet.io On My Mobile Or Tablet?
SportsBet.io has recently created an application for Android-powered mobiles or tablets, meaning you can now bet on the go. Both the sportsbook and the casino sections are available to play, and everything has been fully redesigned for easier use on a smaller screen.
If you are an IOS user, then unfortunately there is no dedicated app available yet. However, SportsBet.io says one is under construction, so soon it should be available. For now, you can still access the website on your Apple phone. The website is fully usable on mobiles and tablets. However, some of the games are not available to play.
Is There 24/7 Customer Service?
It is possible to get in contact with customer support in many ways. First of all, you can send them an email and you should receive a response shortly. Also, SportsBet.io has a strong social media presence, holding accounts on Facebook, Twitter, Instagram, Youtube, and BitcoinTalk.
The best way to get in touch, however, is through their 24/7 live customer service. This is found by clicking the box labeled 'live chat' on the left side of the screen and will link you up with a member of their friendly and helpful support staff in a matter of seconds.
Conclusion.
Overall, SportsBet.io ticks all the right boxes for me. With a huge library of casino games, alongside a great sportsbook platform, it is easy to see how they quickly evolved into one of the biggest names in the industry and even appear on soccer teams' t-shirts.
With a library covering slots, card games, table games, live games, and even specialized games, it's easy to get drawn in and find a new favorite. With the RTP displayed live for each game, you can quickly work out which games will pay out decently.
The sportsbook is fully loaded with tons of sports and eSports, including loads of less common, niche sports, and offers highly competitive odds and great betting options.
While the lack of a welcome bonus is rather disheartening, there are still dozens of other promotions available, including no-deposit free bets, in both the casino and the sportsbook, which can offer more playtime.
Low wagering requirements and low minimum deposits and withdrawals mean it is easy to get involved and make money anytime. And now, with their mobile application, you can get involved anywhere too.
Operating in 10 languages, and accepting so many different currencies, appeals greatly to a more global audience.
24/7 Live customer service means you will never be left in the dark if you have an issue, and with great usability and a high-rolling VIP club, it is hard to find anything negative about this casino.
FAQ – SportsBet Coupons
Should I play at SportsBet.io?
If you enjoy sports betting and want to use crypto to place bets, it is a good option but does not offer the full range of blockchain benefits. Other have redistributed profits along with being decentralized which is a better option
Is SportsBet.io safe?
SportsBet is a licensed crypto sports betting site and due to that offers a safe platform for responsible gamblers.
Is SportsBet beatable?
To be able to beat SportsBet you will be required to gamble which means it will be down to luck if you win or not. No casino is beatable without been lucky and the likelihood is you will lose.
Further Information